Details

Written by Tracy Mayhew
No. 26 - JEAN xx (Nothin Leica Dane/Miss Leader). 4 year old mare in foal to Fishermans Friend (imp). Owned by Misty Beinke. Hans said, "This is the best thoroughbred mare he's seen today."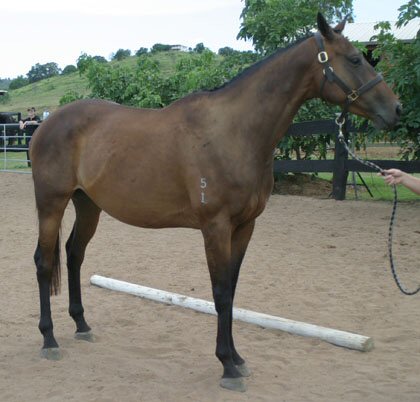 No. 27 - ARCH TOPIC xx (Tsarbaby/Anonimo by Lefroy). 10 year old mare in foal to Fishermans Friend (imp) - with 2 month old colt foal by Wyndemere (imp). Owned by Ian & Jenny Gilligan.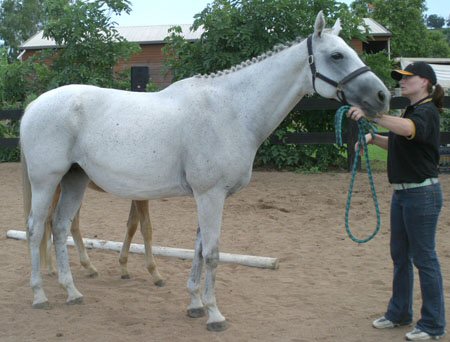 Happily all the mares presented were passed with, Remi Rapunzel and Jaybee Desiree being classified as Elite Mare Candidates.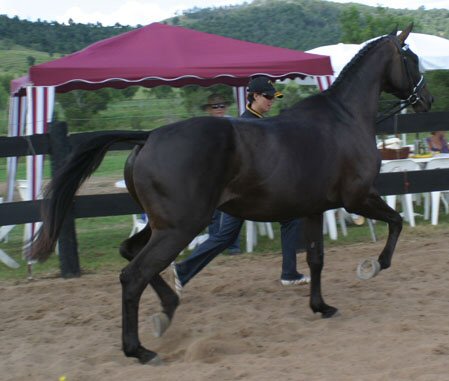 Elite Mare Candidate Remi Rapunzel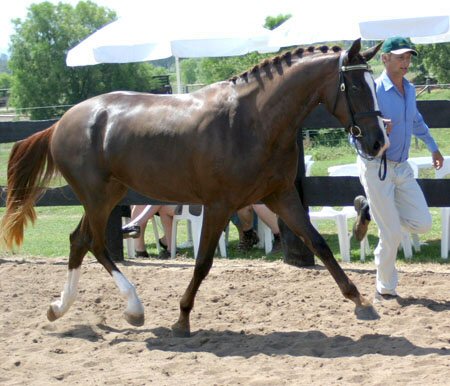 Elite Mare Candidate Jaybee Desiree
I have to mention what a great job the runners and handlers did in sometimes difficult circumstances on a very warm day (i.e. mares wanting to stick close to the fence and foals not always wanting to show off their best paces) - well done to Sharyn, Alex, Heidi, Kaitlin, Misty, Kelly and Kylie, a brilliant effort!
Congratulations to Remi Stud, the sponsors (Virbac and Hyfeed Sales), the owners, breeders, presenters, families and connections of the horses presented today. It was a very well run Open Day - the property looked stunning and the logistics of organising so many mares and foals would have tried the patience of a saint!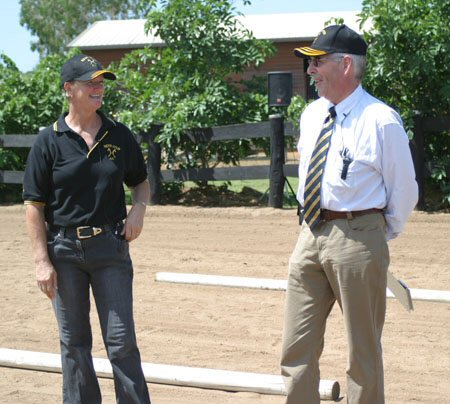 Cheryl O'Brien and Hans get a chance to relax during classes
On a final note, I thought it was such a shame that there weren't more people attending as it was a fantastic opportunity to not only see the foals of the future, but also to gain some insight from one of Germany's leading horse breeders as to what Australian breeders should be looking for and aiming at when it comes to producing performance horses, irrespective of the breed. Hopefully next year more people will make the effort and experience Remi Stud's wonderful hospitality.
Remi Stud Open Day - Introduction
Remi Stud Open Day - Foal Registration 1
Remi Stud Open Day - Foal Registration 2
Remi Stud Open Day - Foal Registration 3
Remi Stud Open Day - Foal Registration 4
Remi Stud Open Day - Foal Registration 5
Remi Stud Open Day - Stallion - Fishermen's Friend
Remi Stud Open Day - Mare Classification 1
Remi Stud Open Day - Mare Classification 2
Remi Stud Open Day - Mare Classification 3