Bundeschampionate 2009,
Warendorf, Germany
2-6th September.
Story and Pictures Kelly Bauer - Day 4
The 6 year old Dressage horse Bundeschampions are ...
Nicole Casper and Birkhof's Denario.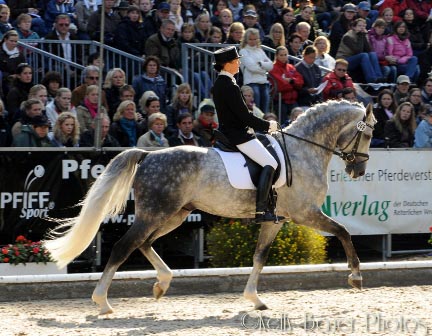 Nicole Casper and Birkhof's Denario.
It was grey all the way in the 6 year old Dressage Horse competition at the Bundeschampionate, Warendorf today. Nicole Casper riding rode 2 horses in the 6yo Grand Final this afternoon, but it was with Birkhofs Denario that she took out the title.
Nicole Casper and Birkhof's Denario - 6 YO Winners for 2009
The grey Bayern bred stallion by Denaro, out of a Fair Play mare is owned by the Casper Family and was bred by Manfred Lauber. Nicole and Denario demonstrated a test of pure harmony, with big, elastic and correct movement, coming from a happy and relaxed horse. It was a pleasure to watch.
Nicole did a super job preparing this lovely horse and they can now relax and enjoy their success. They scored a perfect 9 and the title for 2009.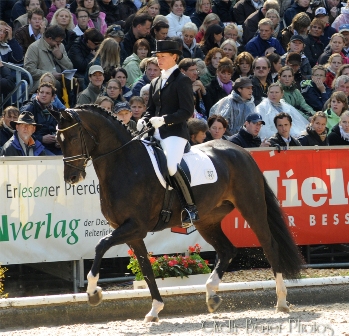 Della Cavalleria
Second place went to Kira Wulferding and Della Cavalleria, and Oldenburg mare by Diamond Hit out of a Rubinstein I mare. This combination also produced a great example of what a 6 year old dressage horse can look like! Kira did a beautiful job riding this mare, the only little glitches were in the flying changes which needed to be a little more through and more regular on both sides. They scored 8.70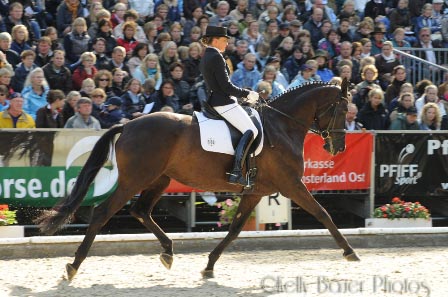 La Noire
Third went to Dorothee Schneider and the lovely La Noire, a Hannoverian mare by Londonderry out of an Alabaster mother. This mare showed lovely movement and elasticity through the body in her trot tour, but could just have had just a little more scope through the shoulder. They took out the bronze medal with a score of 8.5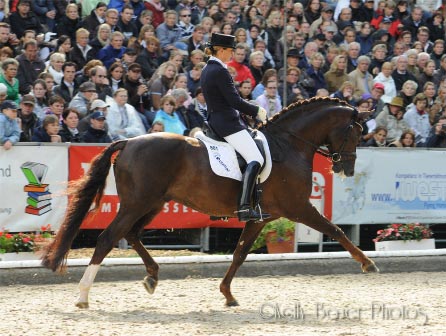 Rassolini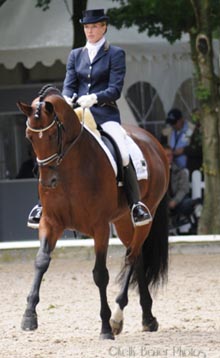 4th went to Kathrin Strohen zu Meyer riding Rassolini, a Hessian bred stallion by Rubioso out of a Silvano mare.
Sadly the stallion was a lacking a little concerntration, calling out to the warm up arena in the walk tour.
He had a good, fluid trot that could have just come through a little more with the hind leg. Overall a nice picture, and a score of 8.3
5th went to the brown Trakehner stallion Imperio 3 (pictured right) and his rider Anna-Sophie Fiebelkorn.
This pair won the last semi final however today was not meant to be. He had a slight loss of tempo in the first extended trot, but was still able to show off his natural talent. In the canter he remained nicely uphill with plenty of bounce in his stride. Again a very nicely ridden test with a score of 8.2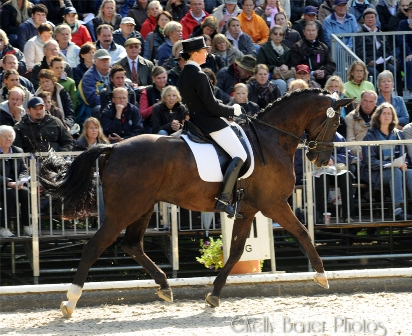 Birkhof's Dave
6th went to Nicole Casper's first ride in this class, Birkhof's Dave. This Würtemburger bred gelding by Denaro out of a Rehberg mare and is also owned by the Casper Family. This horse had a good solid walk, had a slight rhythm problem in the traversale but was ridden very well by Nicole. They scored 8.1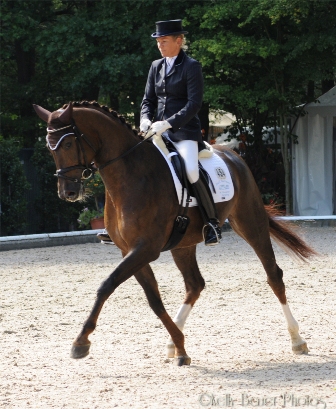 First Love
=7th went to Martina Hannover-Sternberg and First Love, a Westfalen bred mare by Florestan I out of an Ehrentusch mare. They scored 7.8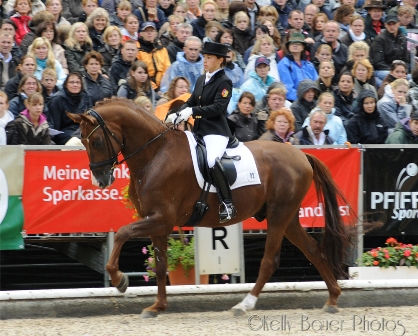 Burlington
=7th Charlot-Maria Schürmann and Burlington, a Hannoverian bred stallion by Breitling W out of a Rohdiamant mare.

Feine Dame
=9th were Friederike Kampmeyer and Feine Dame, a Westfalen Bred mare by Fürst Heinrich out of a Rinaldi mare. They scored 7.7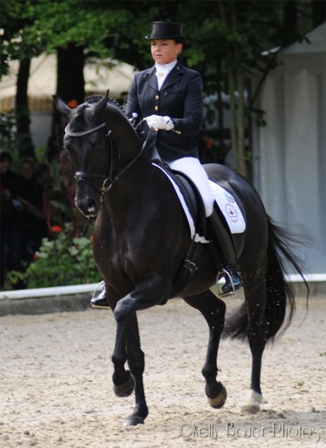 =9th Dorothee Schneider and Florinero, a Hannoverian bred stallion by Fürst Heinrich out of A Jungle Prince mare.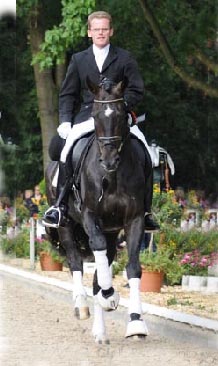 11th place went to Heiko Klausing and San Schufro (pictured right) an Oldenburg stallion by Sandro Hit out of a Don Schufro mare. They scored 7.4.
12th went to Marco Bührig and Delgardo, a Hannoverian gelding by Depardieu out of a Caprimond mare. They scored 7.3
13th went to Brigitte Wittig and Balmoral W, a Westfalen bred Gelding by Breitling W out of a Diego xx mare with a score of 7.3
14th went to Emma Kanerva and Fürst Kasper, a Westfalen bred gelding by Fürst Piccolo out of an Attraktiv mare with a score of 7.1
15th were Katharina Winkelhues and Corlando, a Hannoverian gelding by
Contendro out of a Langata Express mare with a score of 7.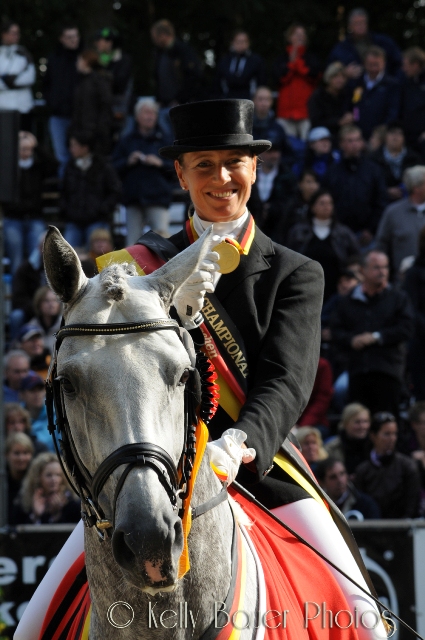 Nicole Casper and Birkhof's Denario - 6 YO Winners for 2009
Results from the other classes can be found at this link
The event is being covered live by clipmyhorse
http://www.clipmyhorse.de/
The complete results from this test can be found at this link

The start lists and results from all tests can be found at this link