Details

Written by Berni Saunders
Victorian Rider/Coach heads off to the USA
Story and Pics Berni Saunders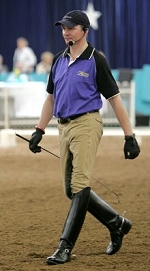 I spoke with Rachelle Wilson recently and she told me of her exciting plans to begin the year 2008 in the USA.
Rachelle spent quite some time in Germany during 2006, based at the stables of Hubertus Schmidt. She had a wonderful time learning a great deal from this highly respected 'quiet Achiever'. Rachelle spent a lot of her time with the Schmidt family and considers them all firm friends.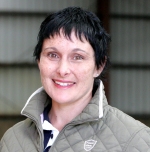 Hubertus asked Rachelle (right) to be his 'special groom' for WEG 2006 in Aachen, Germany and Rachelle said, "I thought he was joking when he asked me if I would be available to work for this period .... be available????? What a silly question, I would LOVE to be your groom at WEG, was Rachelle's immediate response! She added, "I had the best time and it was so interesting to be able to observe the World's top riders and horses preparing for a personal best performance at such an important event.
I feel that this experience has enhanced my knowledge as a rider and an instructor, I am sure that I have been able to pass quite a bit of this on to other dressage enthusiasts."

Above - Hubertus in Germany
Right - Hubertus riding
Susannah Clarke's (Vic.) talented
gelding "Come to Me' (Imp) at DWTS
(DWTS pic - Berni Saunders)


Hubertus and Come to Me!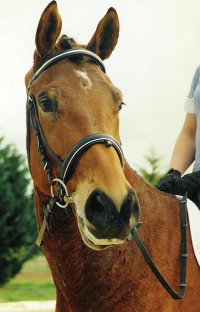 "I was so full of enthusiasm and keen to put my lessons with Hubertus into practise when I returned to Australia. I planned to start in earnest with my promising young gelding Wolkenz Lad (by Wolkentanz II).
Lad's early work had been full of interruptions with the common young horse ailments such as skin irritations and a virus that just would not go away. This seemed to be behind him and we were ready to 'get serious', when I had a call from the manager of the agistment centre where he was kept to say that my poor boy had severed a tendon on his hind leg, in a freak paddock accident.
He was running along the fence line having a play (which he has done since the day I got him!) and gave a smart little kick out, sliding his leg over/along the bottom strand of the plain wire, which lifted up his "long" paddock boot and cut through the tendon!
Lucky for Lad, the property manager was driving towards his paddock at the time and saw it happen. I was in the indoor arena training a client's horse, so dropped everything to lend assistance. The vet arrived very quickly and advised me of the options. None of them offered a long term hope that Lad would return to the fitness level required to train on to the top level of dressage and so I took the vet's advice to end his pain. Losing Lad has made me realise how difficult it is to find a nice young horse that has something special to offer!
Add to these personal dramas, the Equine Influenza outbreak in Australia and the effect on the entire horse community. We have not had a competition for over 3 months ... and the likelihood of the 'bio-security' measures being in place for quite some time to come.
I have decided that I better take up the offer to spend some time in the USA with Hubertus' pre-WEG pupil Dr Cesar Parra at Piaffe-Performance Farm in Florida, USA (while it is open to me!)
Cesar is pictured right leaving the magnificent Aachen stadium following his 2006 WEG ride and below, during his test on the stunning bay, Galant Du Serein (pictures Berni Saunders)
Cesar was in Germany training with Hubertus for 3mths before WEG 2006 at the same time that I was there. He brought Galant Du Serein and Furst Fabio with him and Galant took part at WEG in Aachen. Cesar asked me to accept a position at his barn when I had finished my stay with Hubertus. in Germany. I declined at the time as I was keen to return to Australia.
This 2007/2008 trip was destined to be ... as the timing fitted perfectly with one of Cesar's riders returning home to Germany for Christmas and a well deserved break. Cesar needed help with the training and riding of the horses in his care. It is lucky for me that he has just moved his barn (early Dec) from New Jersey where the winters are bitter, to the warmer climate of Florida. So I won't have to take all of my Winter woollies!!!
A break away with great people and wonderful horses seems like a very good thing to be part of ... and a way to further my knowledge and exposure to the training systems of successful international riders. I will be leaving on the 19th December and will be back in Australia on the 18th January, just before school starts!
I will be stopping off in Canada to spend Christmas with some friends ... and then straight on to warm, beautiful, Florida!! Cesar's web site is www.piaffe-performance.com. so take a look and find our more about him and his horses.
"Berni, I hope you and all of my Cyberhorse buddies have a great Christmas and may I wish you all the best for a happy, safe and EI free New Year. I hope to catch up with my Aussie friends some time in the New Year." said Rachelle Wilson.