Details

Written by Tracy Mayhew
Kelly Layne, the 31-year old Queenslander who has dazzled Australian Dressage fans with wonderful recent performances on 13-year old Hanoverian gelding, 'Amoucheur' (Achipel/Eistanz) has just been named on the 'short list' of Australian riders who will be considered by the selectors to make up the Australian Dressage Team for the World Equestrian Games which will be held August 2006 in Aachen, Germany.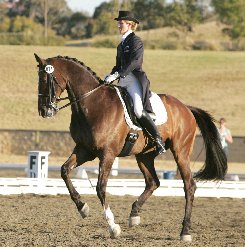 Kelly and 'Amoucheur' winning the hotly-contested GP at the 2006 Sydney CDI ***

For those who are 'into' horses, Kelly had a fairytale upbringing with horses being the main family interest. Kelly's mother, Helen Anstee, is a Grand Prix rider and 'B' (FEI) level judge who started breeding ponies for Kelly to ride even before she was born!

Helen wasn't the typical 'show mum' and it was Kelly who chose whether she wanted to ride or not. "Mum is obviously a big influence on my riding career but she was never pushy," said Kelly. "She organised clinics with trainers such as Clemens Dierks and I was also lucky enough to attend clinics with luminaries like Wolfgang Holtzel, Rudolph Zeilinger and Hubert Eichinger. Sometimes places became available and so Mum would say, 'Oh don't worry about the open space, I'll bring Kelly along'. Having the chance to train with these great instructors was wonderful."

"I did all the usual pony club, show jumping and showing activities when I was growing up, but dressage was always the main focus because that's what Mum did," she added.

Kelly's 'big moment' was in 1990 when she went with her mum to the WEG in Stockholm. "In Stockholm I got to see 'real' dressage. That was a defining moment for me in my career choice. It was then I knew that I wanted to train and ride dressage horses."

Kelly rode her first CDI in 1993 at 18-years of age on Abbey Hill, a thoroughbred mare Kelly had owned and trained since she was a 12-year old girl. 'Abbey' is now retired and happily munching grass in the retirement paddock at Kelly's Sunshine Coast property.

She went on to become a Level 2 Dressage Specialist instructor and with the help of her 'support squad' including her mum and Queensland Dressage President Irene Bakels-Noreen, whose meticulous attention to detail prepared Kelly for her two-year European training stint with Jan Dupont in Belgium. Kelly took her Grand Prix horse, 'St James' to Jan's and was ready to go out and compete when tragedy stuck and he had to be put down after a colic attack.
In 2003 she decided to try again, this time with 'Amoucheur' ('Smooch') and at the stable of Ulla Salzgeber. "I learnt so much from Ulla; she is another of my major influences. She looks at the whole picture not just the training or the competing side but puts the whole thing in perspective. Again, her attention to detail is amazing, for example when a horse is shod, we are not to ride any half-pass movements for about three days until the new 'clips' on the horse's shoes settle down. Little things like that. When preparing for a competiton we structure the weeks leading up to the event very similar to the week before the competition so the horse knows the routine. Exercise for three days and competition work for four days. But whenever I ride the horse, be it training Grand Prix movements or just walking him out on a trail on a long rein (and we do alot of walking!), she has taught me to be 100% focussed on what I'm doing."
In July, Kelly will head off to Ulla's barn in Europe. She will be taking 'Amoucheur' and her latest acquisition, the 10-year old Grand Prix gelding Neversfelde Feuer (Flemmingh) who is a sensitive and reactionary horse but makes up for it with loads of expression and flair. "I love soft, elastic and supple horses. I buy my horses on the feeling I get when I ride them and the overall picture must be elegant and appealing," Kelly said.

"Sensitive horses really suit me and some people ask, 'Don't you feel let down when the horse plays up in a test?' and I say, No, they are animals. Of course everyone wants to do well in a test but you must love riding the horse on a daily basis to make it successful. These horses make dressage look beautiful – you have to be very disciplined in your position, as any slight loss of balance from the rider can disrupt the horse, but then you have the advantage of being able to be subtle and use invisible, light aids. Plus, 'Smooch' is the most affectionate horse, he makes me feel special. I have owned him for five years and we have really built up a great partnership."
Kelly's husband and 'every day' coach Steve and her groom Rebecca Walshe (who happens to be an old school friend and a vet), will be accompanying Kelly and the horses to the WEG. "Steve has a wonderful eye for geometry, he keeps everything in perspective and knows how to handle me. He doesn't get too caught up in the artistic side of the sport – that is my job. He's an ex-fighter pilot in the US Air Force and understands the dedication needed."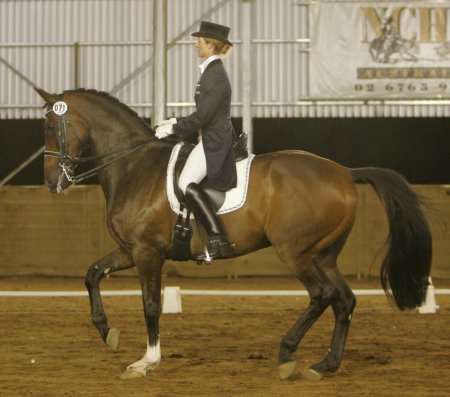 Kelly and 'Amoucheur' winning the GP at the 2006 Toowoomba ** with 69.792%
Kelly and 'Smooch' will have their first competition 10 days after they arrive (Austria), followed with a local competition a week later. After these outings, the selectors will make their final decision as to who will be representing Australia at the World Equestrian Games in Aachen.

Kelly concluded our discussion by saying, "Enjoy what you're doing. There are only two certainties in this game: vets bills and disappointment… the rest (anything else you achieve on top of that) is all great. You have to choose your own path and what you want out of your sport because, anything can happen in the arena - don't get disillusioned!"

When Kelly is not in the saddle she is kept busy running her two step-children to various sporting events and ... no, neither of them have any interest in riding and when the family gets a chance to spend time together, they like to travel.

All Dressage enthusiasts in Queensland, and indeed Australia, would like to wish Kelly and 'Smooch' the very best of luck, safe travels and the opportunity for a personal best at WEG.