Details

Written by RASV
The Royal Melbourne Horse Show will be held over the Australia Day long weekend with a number of high profile retired racehorses competing at the prestigious event, including Australian Cup and MacKinnon Stakes winner Sirmione and local star Fordee.
Held over four days from Friday, 25 to Monday, 28 January at the Werribee Park National Equestrian Centre, the Royal Melbourne Horse Show is one of the most prestigious competitions in the Australian equestrian calendar and judging will be presided over by nationally and internationally acclaimed expert judges.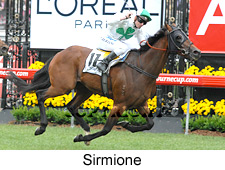 Thoroughbred entrant Sirmione will compete in the show ring for the first time after an illustrious career as a racehorse, which included winnings of $1.8 million under trainer Bart Cummings.
New this year is a class specifically for retired racehorses, which will be sponsored by Racing Victoria and feature thoroughbreds that have collectively earned close to $1 million in prize money. Entrants will include Lonhsdale, London Court, Orienteer, Beer Wine n Spirits and Chosen One.
The Royal Melbourne Horse Show has experienced an increase in entries in a number of key classes, including Thoroughbreds (up by 140 per cent on 2012), Pony Club (up by 21 per cent) and Open Breeds (up by 15 per cent).
Royal Agricultural Society of Victoria (RASV) CEO Mr Mark O'Sullivan said the Royal Melbourne Horse Show will be a highlight of the Australia Day long weekend for the equestrian community.
"The Royal Melbourne Horse Show will this year showcase a number of high quality retired thoroughbred racehorses, which will only further enhance its reputation as Australia's largest horse breed show."
"The RASV is proud to present more than 40 breeds of horses and ponies in this high calibre competition." said Mr O'Sullivan.
The Royal Melbourne Horse Show will provide valuable qualification towards the 'Horses in Action' competition at the 2013 Royal Melbourne Show in the spring and also features the unique Best of Show Championship, with its coveted 'Best of Show' trophy.
Photo: Fiona Tomlin